If you know someone who is really into guns or maybe you, yourself like to collect or shoot guns, you may be interested in some nice pro gun shirts.
There are a lot of nice shirts, mostly pro gun t-shirts, for both men and women that you can choose from.
These shirts range in styles from a simple picture of a gun to a message about your 2nd Amendment rights. There are some shirts that you can find that not only deal with owning guns but also things like hunting and defending the country.
Pro Gun Shirts for Men
These shirts are primarily geared towards men and come in men's sizes, although there is nothing against a woman wearing them as well.
Black AR-15 Come and Take It T-ShirtCheck Price
Black Helmet MOLON LABE T-shirt –Check Price
American Outlaw Military Green T-ShirtCheck Price
AR15 Rifle Raglan Style ShirtCheck Price
Gadsden and Culpeper Men's Logo T-shirtCheck Price
AR-15 Silhouette Men's T-shirtCheck Price
Most of the shirts above are available in a wide variety of men's sizes ranging from size small all the way up to a 5XL. There is sure to be a good size fit for just about every adult so everyone can get their pro-gun shirts.
Some of the shirts are also available in other colors than the ones shown above as well.
Pro-Gun Shirts for Women
Although a woman could easily wear any of the shirts above, they are made in men's sizes. Fortunately, there are some nice pro firearm shirts available for women as well.
Pink Guns Women's T-Shirt
I Know How To Load More Than a Washer TeeCheck Price
Sweet as Sugar Hard as Ice Cross Me … ShirtCheck Price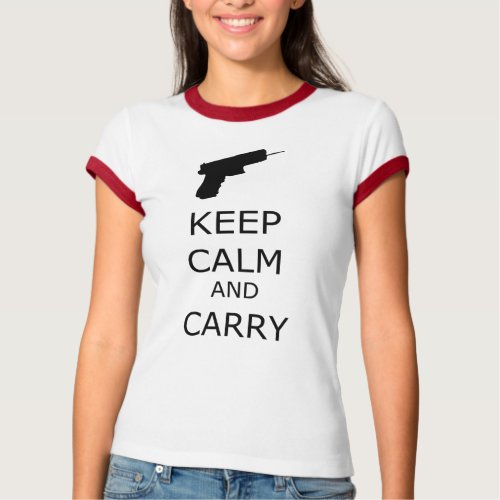 Keep Calm and Carry Ringer T-shirtsCheck Price
Girls & Guns. All American Woman. T-ShirtCheck Price
USA Pistol American Gun Flag Tank TopCheck Price
Most of the shirts above come in a variety of sizes for women starting at a size small up to at least a size XL in women's sizes. You may find that most of the shirts actually will be available up to a size XX-large.
With some of the shirts there are also other colors to choose from as well. Some may offer a different color shirt while others have different color writing available as well.
A pro gun shirt can make a very nice gift for any gun lover in your life whether male or female. Best of all, these shirts don't cost a lot of money and some of them can even be bought for less than $15.
Be sure to check out the recommendations for great gifts for gun lovers to get even more ideas for special gifts for birthdays, Christmas, and even just a present for yourself.